The Birthplace of Golf Program

July 18 – 27, 2018

This fabulous golf experience includes three days of unlimited play on St. Andrews Links Trust Golf Courses (Balgove, Strathtyrum, Eden, Jubilee, New, and Castle), 18-holes on Crail Balcomie, or Dukes Course, or St. Andrews Bay, practice at the famous St. Andrews Links Trust Golf Academy, and fabulous sightseeing.
St. Andrews, Scotland
Because if its popularity the "Birthplace of Golf" program is offered June through August – golfers now have additional options to select the perfect dates to visit St. Andrews.
Have you played St. Andrews?
Playing golf at St. Andrews is more than playing just one course. There are actually seven golf courses (Balgove, Strathtyrum, Eden, Jubilee, New, Castle and Old Course) in St. Andrews proper, all are owned and managed by the St. Andrews Links Trust.
St. Andrews lies in the Kingdom of Fife, it is a quaint little village that has much to offer in culture, recreation, shopping, and dining. The University is renowned for its educational offerings and in 2005 graduated Prince William, heir to the British throne. A 2005 USJT Golf group by chance came upon Queen Elizabeth, Prince Charles, Duchess Camilla attending Prince William's graduation.  We can't guarantee this will happen, but you will very much enjoy the locals.
St. Andrews is a living museum where interaction with its history is highly encouraged. The Old Course, unmatched in tradition, is closed on Sunday so the community may enjoy a walk on the course and visitors may pose and snap an unlimited number of photos.
Please call our offices 608-793-1956, email or SKYPE: mscottott.
The Golf Courses
New Course – St. Andrews Links Trust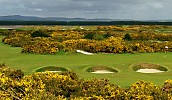 Located as it is in the shadow of its illustrious neighbor, the New Course can be considered one of St Andrews' best kept secrets. Opened in April 1895, the course was built in response to increasing demand for golf at St Andrews.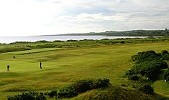 Jubilee Course – St. Andrews Links Trust
Now well into its second century of life the Jubilee Course was created on a narrow strip of prime golfing land between the New Course and the sea. Developed from a basic 12-hole to what many consider to be the toughest test of golf at St Andrews. 
The Castle Course – St. Andrews Links Trust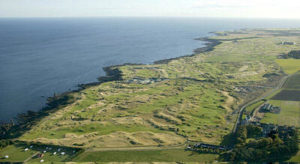 The Links Trust has created a seventh18-hole course to join its portfolio of six courses. Opened in 2008 the site of the Castle Course is one that has been intimately connected with St Andrews for many hundreds of years. The focal point of the course will be the headland named Kinkell Ness, or Kinkell Point, where the double green that serves holes 9 and 18 and the clubhouse is located
Fairmont – Kittocks Course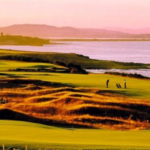 Constructed in an American-style with two man-made lakes, but the layout honors the tradition of golf at St Andrews with two double greens, numerous deep pot bunkers and, of course, the most important ingredient, the feeling.
Crail Golfing Society – Balcomie Links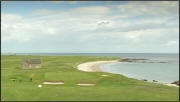 Situated on the eastern edge of Fife and only ten miles from St. Andrews, Balcomie is a beautiful setting and offers unrivalled views of the Forth and Tay estuaries. Not too long and full of interest with magnificent views of the sea from every tee. And several of the fairways wind alongside golden sandy bays and rocky outcrops of the Firth foreshore.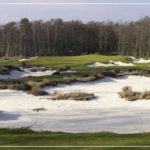 The Dukes Course
The Duke's is highly regarded as one of the finest heathland championship courses in the British Isles. With five separate tee positions at every hole, The Duke's has the flexibility and challenge to appeal to golfers at every level. Renovated with five completely new holes in 2006, the course now displays all the hallmarks as it was in the early 1920s.
Accommodation Options
Rusacks Hotel – 4-Star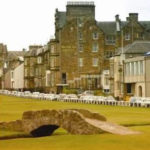 The Macdonald Rusacks Hotel in St Andrews is one of the most famous golf hotels in the world. Overlooking the 18th hole on the world renowned Old Course, Rusacks combines luxurious accommodation with a front row seat on sporting history.
The award-winning Rocca Bar & Grill serves the finest food and drink against a backdrop of the world's most photographed golf course. Magnificent views out to sea take in St Andrews' West Sands, immortalized in the opening scenes of the Oscar winning film, Chariots of Fire.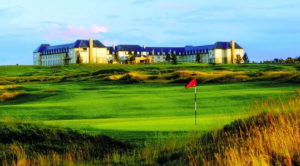 Fairmont Hotel – 5-Star
Set on a 520 acre estate with a unique coastal setting, the 209 bedroom hotel is the perfect location to enjoy a St. Andrews stay. Fairmont St Andrews recently completed a $26 million refurbishment program and was voted in the Condé Nast Traveler readers' poll as 18th in the World's Top 100 Golf Resorts,
Fairmont St Andrews has two exceptional courses that hug Scotland's dramatic coastline – the new Kittocks course (previously the Devlin) and the Torrance course. The signature Fairmont Spa is on grounds and available.
Old Course Hotel 5+ Star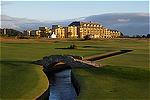 This fine resort hotel overlooks the manicured acres of its namesake Old Course and across to the sea beyond. It's an elegantly informal haven of luxury, warm hospitality and exquisite dining. The absolute best Scotland has to offer.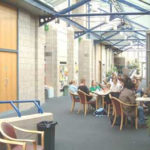 University of St. Andrews New Hall – 3-Star
Located only a few hundred yards from the Old Course and walking distance to six of the St. Andrews links TrustCourses New Hall is the best value accommodations for one's busy stay. Single room accommodations with private bathroom: shower: daily towel service: large bright foyer: lovely dining area: and onsite pub.
Program itinerary includes::
Three days of unlimited play on St. Andrews Links Trust Courses (Balgove, Strathtyrum, Eden, Jubilee, and New Courses)
18 holes on Crail Balcomie or Dukes or Fairmont Torrance Course.
Practice time at the famous St. Andrews Practice Centre.
Daily opportunity to ballot for play on The Old Course.
Ground transportation from/to Edinburgh airport, to/from golf courses.
6 nights accommodations
Daily cooked Scottish breakfast.
Luxury motor coach with professional driver.
USJT Group Golf Travel escort.
Cost per person: $1890.00 Single occupancy
Non-Golfers are always welcome: Deduct $600.00. Based upon double occupancy except for University of St. Andrews which is single room accommodations.
USJT Golf Travel, specializing exclusively in golf travel to Scotland, Ireland, Destination Kohler, and The Biltmore Golf Club in Phoenix, AZ has assembled unique golf programs with unmatched experiences and value for colleges, universities, and their alumni association members.
"Our First-Hand Knowledge Guarantee" assures every traveler that USJT Golf Travel has visited, inspected, and established a close business relationship with every golf course, practice range, university facility, bed and breakfast, hotel, ground transportation provider, and sightseeing attraction that our customers will experience.
"Our Common Sense Approach" focuses on the two most important commodities to golf travel – time and energy. USJT Golf Travel wisely budgets golfers' time allowing for maximum use of each day while scheduling proper and appropriate amounts of rest so golfers are ready and able to enjoy every part of the adventure.
Every arrangement and request including selection of golf courses, tee times, accommodations, sightseeing, and ground transportation are handled by professionals who have personally experienced Scotland.
Next Step:
Contact USJT Golf Travel office and start planning now for this incredible program. Booking early will guarantee pricing. USJT Golf Travel will assist with every detail assuring a first-class experience!
Balloting for the Old Course (daily lottery for tee times) can be arranged and added to the itinerary. Over 50% of daily ballots are successful, and there is no charge for balloting.
Green fees (£140.00 – approx. $260.00) for the Old Course are not included.
This is an incredible opportunity for families, players, groups, and golf enthusiasts to travel to destinations that live the history of golf.Contact USJT Golf Travel to book St. Andrews, Scotland "The Birthplace of Golf" Program